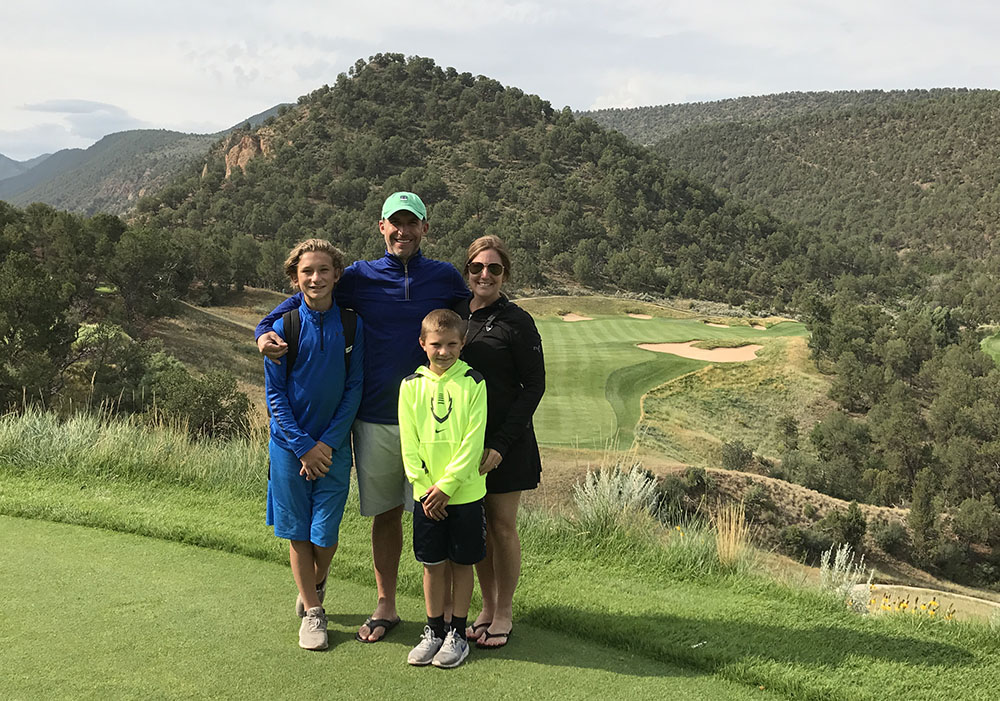 Christopher Wilczynski is a member of the American Society of Golf Course Architects (ASGCA) and the owner of C.W. Golf Architecture, located in Saline, MI. Combining his love for architecture and nature, Chris followed in his father's footsteps and attended Michigan State University where he earned a Bachelor of Science degree in Landscape Architecture in 1994, and later went on to pursue his career in golf course architecture. He is grateful for his hardworking, supportive family and his humble upbringing in the rural village of Blissfield, MI which has kept him grounded yet motivated to pursue his dreams.
Chris is married to a fellow golfer and Spartan, Nicole and is the proud father of his two sons Joe and Jack and his affectionate Golden Retriever, Marlie, who loves to accompany him at golf course site visits.
Where it all began…
Chris' father Michael Wilczynski, a former golf course superintendent and sales professional in the golf industry encouraged him to apply for his first job at Arthur Hills & Associates (Toledo, OH) in 1987 – an opportunity that would pave the way to his future.
Chris was hired at Hills' firm in 1987 as an Intern / Draftsman and spent many of his college summers and holiday breaks working there on a part time basis. Learning every facet of the business was one of his professional goals, so Hills encouraged Chris to step away from the office environment to gain hands-on experience on the construction side of the business. During his college summers he took on renovation jobs at both Michigan State University and University of Michigan golf courses helping him to build an even stronger foundation for his career.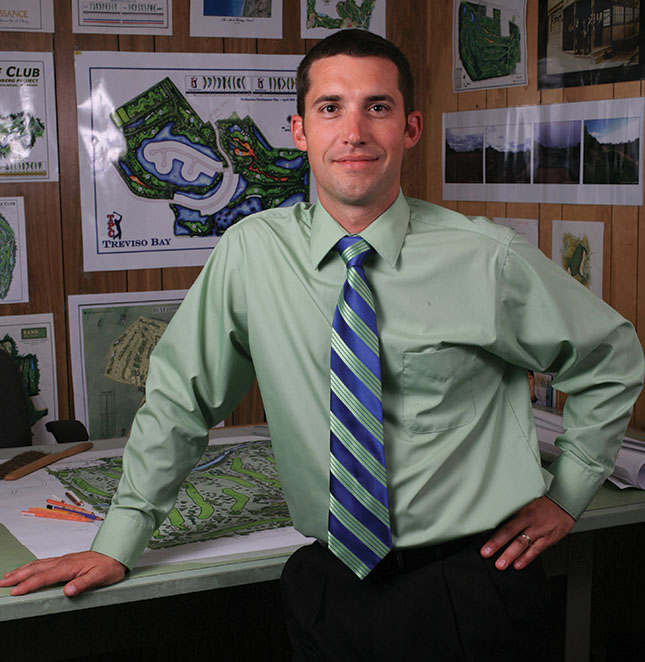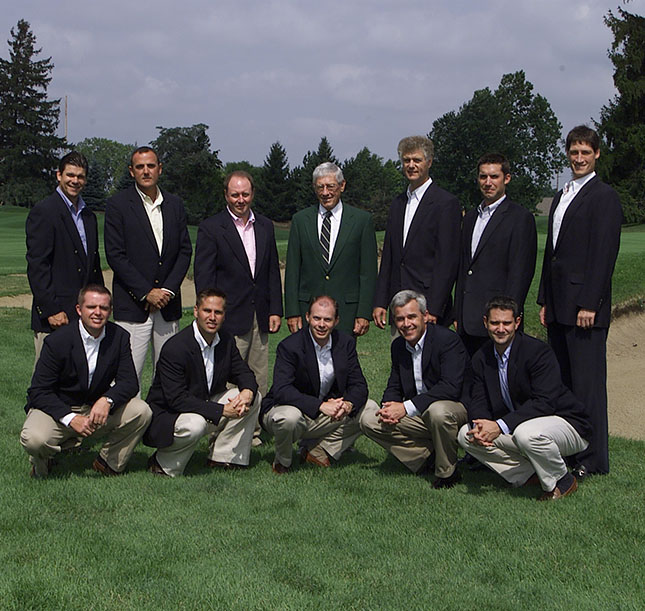 After graduating from Michigan State University, Chris had the urge to return to Hills' firm full time to pursue his passion in golf course architecture. He was brought on board in 1997 as a Design Associate, then promoted to Project Manager which opened the door to several large-scale design and renovation opportunities throughout the U.S.
With a competitive spirit and the drive to succeed, Chris achieved lead architect status on several high-level projects while gaining incredible exposure to many of the best courses and private clubs in the world. His innate creative talent and business acumen is what elevated him to the firm's managing partner in 2007, where he was responsible for leading a team of 20+ design associates, managing the company financials as well as several course designs and renovations – many of which have won national awards and recognition.
The Beginning of C.W. Golf Architecture…
After two prolific, award-winning decades at Arthur Hills/Steve Forrest & Associates, Chris formed his company, C.W. Golf Architecture in 2010. The first project he took on was the phased 18-hole renovation at Wanakah Country Club in Hamburg, NY, followed by several other private and public renovation projects each year.
Shortly after launching his own practice, Chris was hired by national homebuilder and developer Taylor Morrison and earned a place on Golf Digest's highly acclaimed "Best New Courses" list in 2014, for his two new course designs – Esplanade Golf & Country Club of Naples and Esplanade Golf & Country Club at Lakewood Ranch. Chris recently completed the 18-hole championship golf course at Esplanade at Azario Lakewood Ranch, the flagship property of the Esplanade brand. The course has received glowing reviews by the local golf community and quickly earned a place on Golf Advisor's list – "Top Courses in Florida – 2020 (#18)."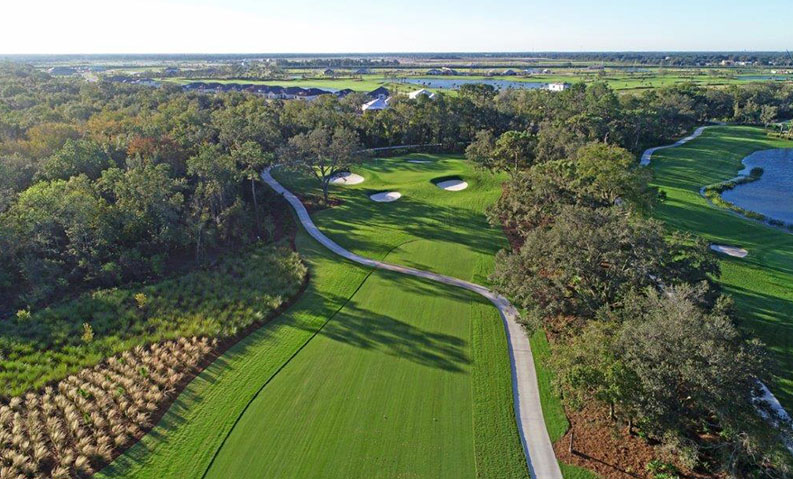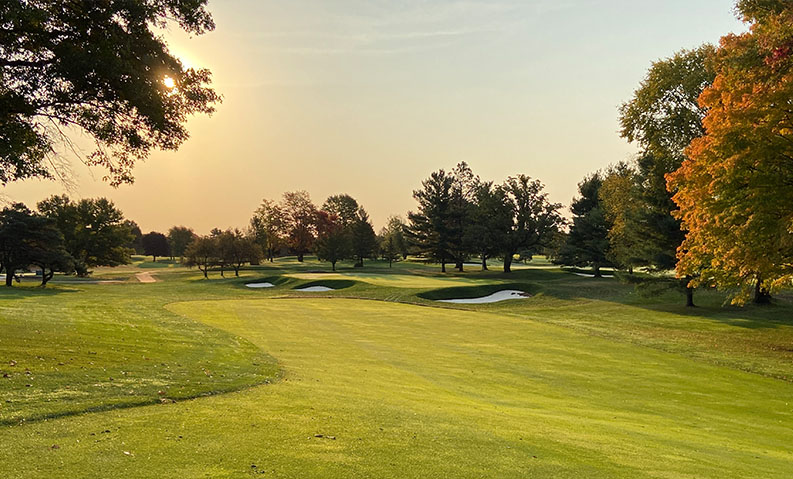 With a robust portfolio featuring 60+ new course designs, renovations, master plans and practice facilities, Chris has completed several projects for private and municipal courses, resorts, and homebuilders. The 18-hole renovation at Blythefield Country Club in Belmont, MI was completed in November 2020, just in time for the 2021 Meijer LPGA Classic. The project was named an honoree of the ASGCA's Design Excellence Recognition Program in 2020.
Beyond the drafting table…
Chris immerses himself onsite working closely with his construction crews, personally hand-crafting green surface details and fine-tuning the aesthetics of bunkers and fairway lines. He believes being onsite during the construction phase is one of the most important aspects of his work, noting, "It's where the details come to life …and when the magic happens".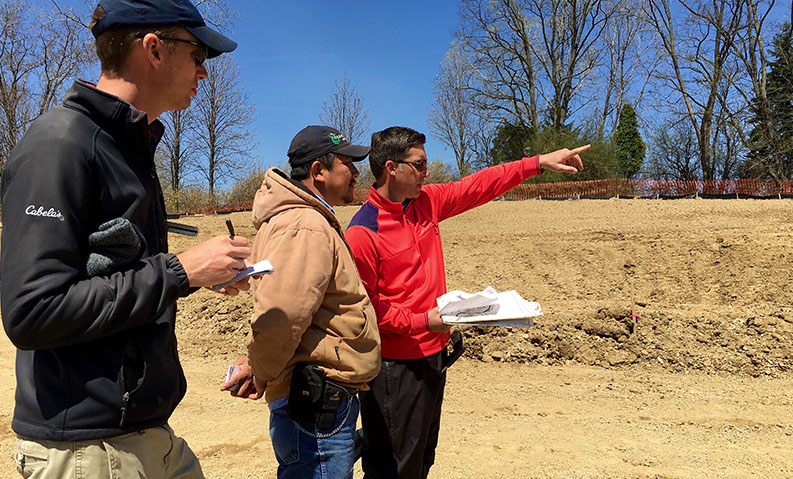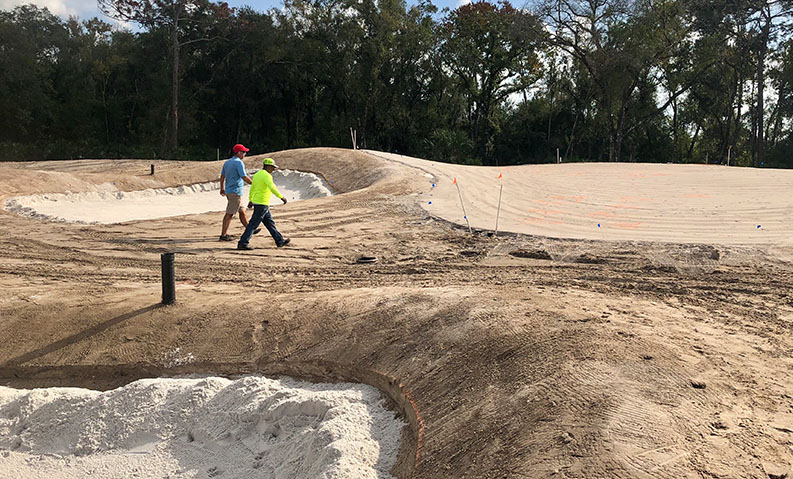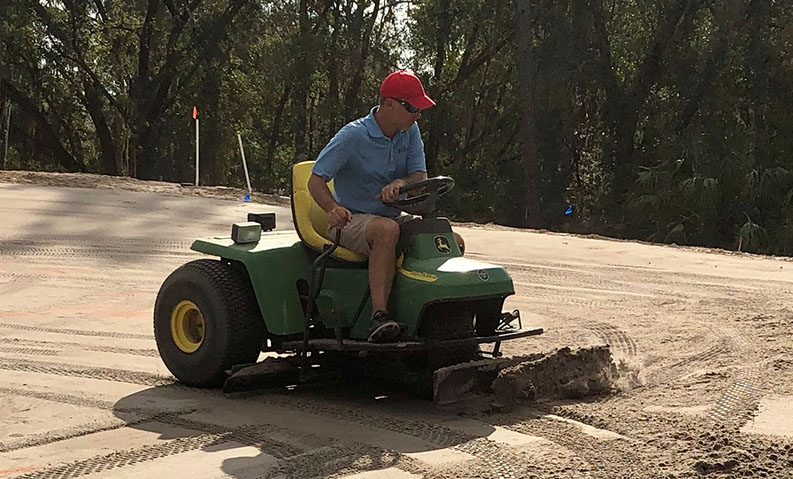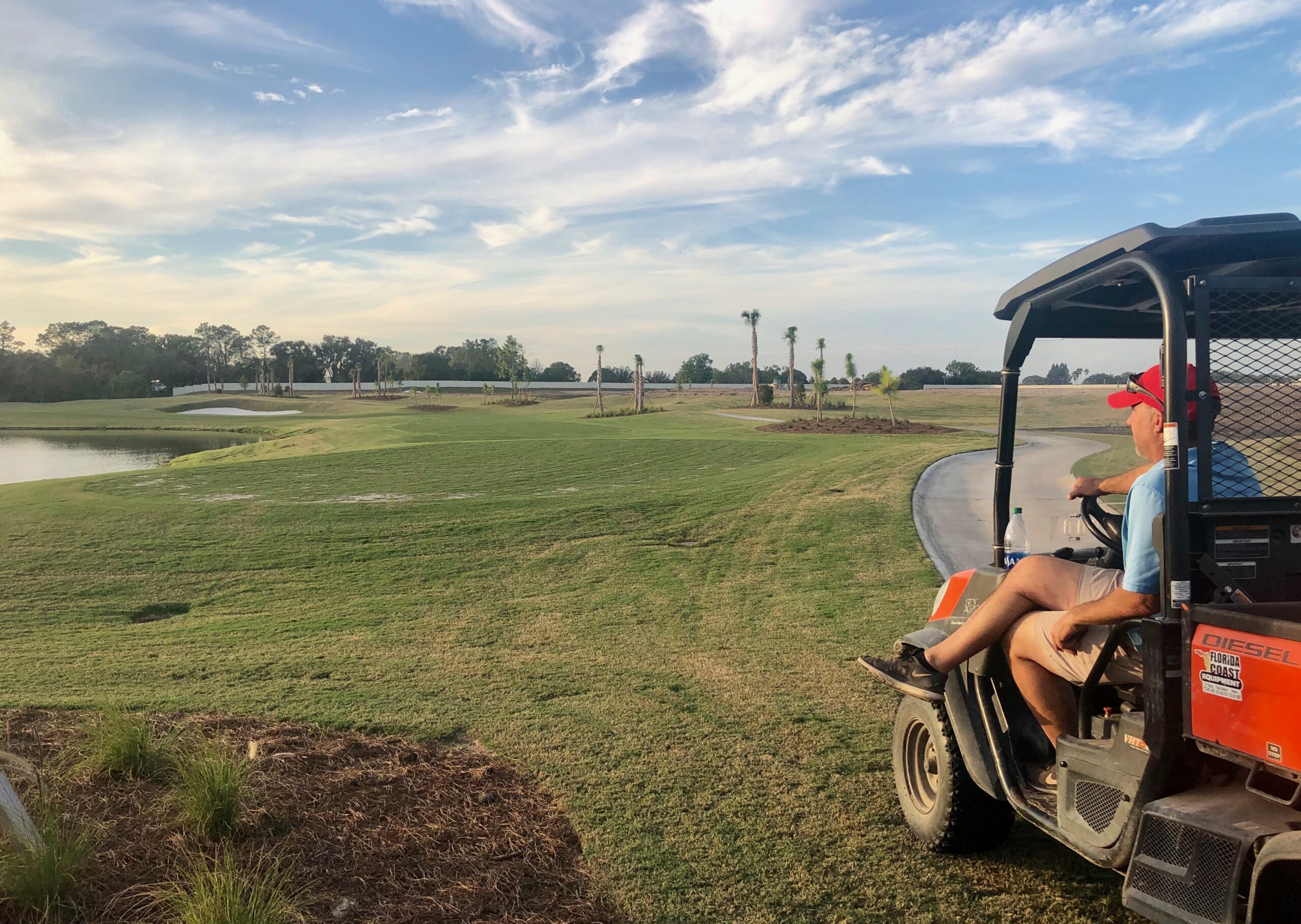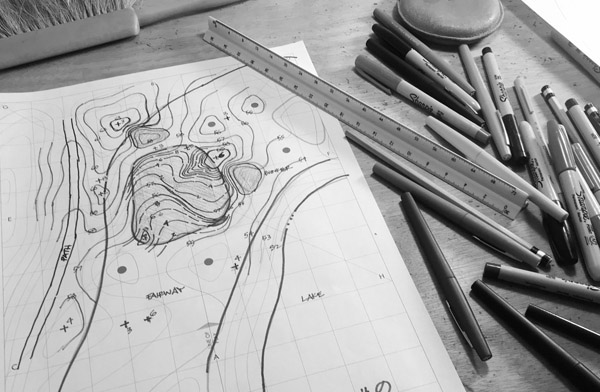 Our philosophy is that great golf course architecture is the combination of beauty, strategy, and sustainability. It is the blending of art and science and the seamless continuity with the land. The goal with every project we touch, from small to large scale, is to create the most natural extension of the earth; to give golfers of all levels an enjoyable and memorable experience and ultimately, the urge to play more golf.
The design features of golf course architecture should ideally possess the elements of line, form, texture, color, and scale. These elements, when carefully planned and executed are what appeal most to the eye and bring harmony to the space and the overall experience.
We believe in strategic golf design and that the best golf holes provide playability and options for golfers of all skill levels. The use of width and "hard and easy angles" is the hallmark of our work. The hard angles provide the interest, challenge, and excitement for the skilled golfer, while the easy angles provide the playability and fun for beginners. Bunkering should be arranged in a strategic manner that emphasizes the angles and the ideal line of play, while greens should be varied in size, shape, elevation, orientation, and challenge. Furthermore, multiple tees should be incorporated so that the course and golfing experience can be scaled.
"At the beginning of my career, I visited Yellowstone National Park which was created "for the benefit and enjoyment of the people". That statement has had a profound impact on my work and design philosophy as what we are ultimately doing is in fact, for the benefit and enjoyment of the people, and that our work will endure and live well past our time practicing golf course architecture."
Chris Wilczynski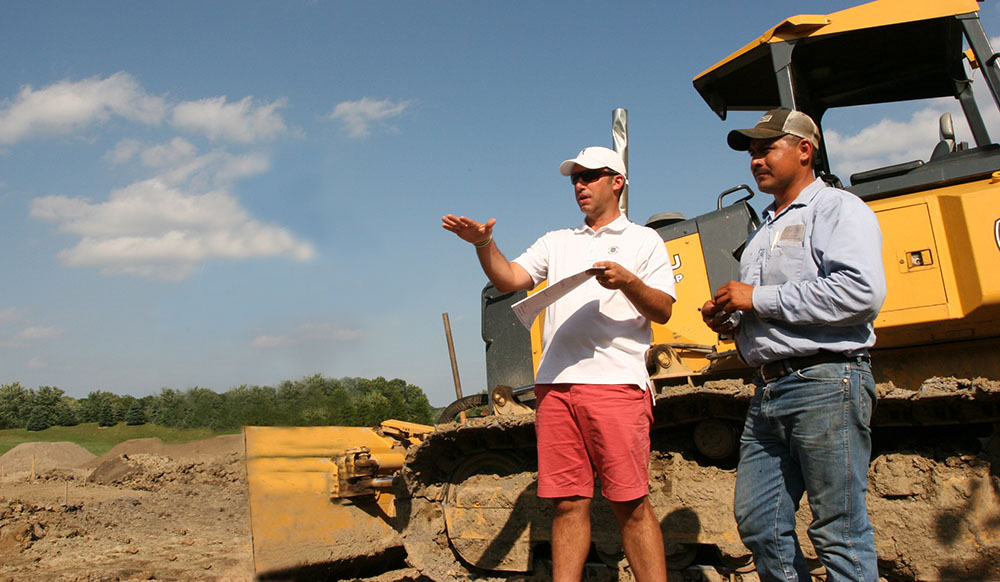 C.W. Golf Architecture (CWGA) is a professional golf course and landscape architecture firm founded by Chris Wilczynski, ASGCA, and is based in Saline, Michigan. The boutique firm specializes in the renovation and enhancement of existing golf courses, as well as the design and development of new golf courses and practice facilities throughout North America.
For 30+ years, Chris has partnered with private clubs and public/municipal golf courses as well as resort and residential community developers to design and improve their facilities. With a thorough understanding of the game of golf and extensive experience in golf course architecture, construction, project management and course maintenance, Chris brings knowledge and passion to every project and is known for his exceptional client service.
The CWGA mission is to create timeless and innovative design solutions that bring beauty and an enhanced social life to communities while providing enjoyment for golfers of all abilities.
Associations & Engagements
As an active member of several professional organizations within the golf industry, Chris attends annual conferences and participates in speaking engagements every year. He is member of the American Society of Golf Course Architects (ASGCA), the American Society of Landscape Architects, the United States Golf Association (USGA), the Michigan Golf Course Superintendents Association (MiGCSA) and is a registered Landscape Architect within the State of Michigan.
Chris also teaches a Golf Course Design and Construction class at Michigan State University and loves to mentor eager students who have interest in the field.
Wanakah Country Club – Hamburg, NY
"Chris' insight has been an invaluable asset to the process of developing and implementing our Master Plan. Chris not only worked to understand our goals but went above and beyond to give us a plan that not only addressed those needs but at the same time improved the beauty and aesthetics of the club. And he did it on budget! Chris' vision of "what can be" and his attention to the smallest details in all areas of the project has given us the peace of mind that the end result will be everything we had hoped for…and more!"
Arthur Hills – Mentor
"Chris is conscientious, goal-oriented and driven to be the best. That is why his clients are well-pleased with his efforts to make them successful. When we needed a partner to step up and handle the day-to-day management of the company, Chris was our man because of his task-oriented nature. Rest assured, though, that he is also very personable and likes to have fun as much as the next guy. His adherence to his core values further add to his list of admirable qualities"

Wolfdancer Golf Club – Lost Pines, TX
"Chris is a true professional in every sense. His passion and enthusiasm for his craft combine with a unique blend of talent and experience. He is a pleasure to work with and a true team player"

Forest Glen Golf & CC – Naples, FL
"It was an extreme pleasure working with Chris as the Project Architect for the complete renovation of Forest Glen Golf & Country Club's golf course. Chris' passion for every detail was incredible, which is what made our golf course what it is today. Forest Glen is now a golf course that our members are proud to call their own and show off to their guests"

Pine River Country Club – Alma, MI
"We had an exceptional experience working with Chris and C.W. Golf Architecture for the renovation of the original 9-hole golf course at Pine River CC. His high-level communication skills and the timely and detailed updates on the progress of the work allowed the entire team to work together and achieve results that exceeded all expectations. The project was completed on time and budget while delivering a new golf course to our complete satisfaction. We love the work and how well everything was done. There is no doubt that we would hire CWGA again"

Blythefield Country Club – Belmont, MI
"From the development of our master plan through its implementation, Chris has been a true partner and pleasure to work with. Our finished product is stunning and is sure to be a source of pride for our members and their guests for years to come. Chris' design work is excellent, and I would not hesitate to use his services in the future."

Taylor Morrison
 "Chris and C.W. Architecture truly understand how to create fun, playable, and visually impressive golf courses that perfectly complement our destination resort-style communities. Chris has been a great partner over the past 8 years with our Esplanade Golf Experience, Esplanade at Azario being our 3rd C.W. Architecture golf project together. Our homeowners love Chris' layouts and the challenging elements within that make each round such an enjoyable experience.  Our team appreciates Chris' collaborative approach to working on each new project and incorporating ways to make the ongoing maintenance of the course as efficient as possible. We look forward to working with Chris on future projects."